Booksmart Studio's inkjet printable fine art metal allows you to print directly on metal surfaces, the metal has a coating applied to accept most popular inkjet printer inks. These fine art printable metals are offered in aluminum and gold and provide a very durable & luminous print. Users must print with a printer that allows direct pass through for paper. The fine art metal series has an adhesive backing to make mounting an easier process, this adhesive backing is optional in certain sizes. The inkjet printable gold and aluminum allow users to create prints that are unlike any print produced on paper.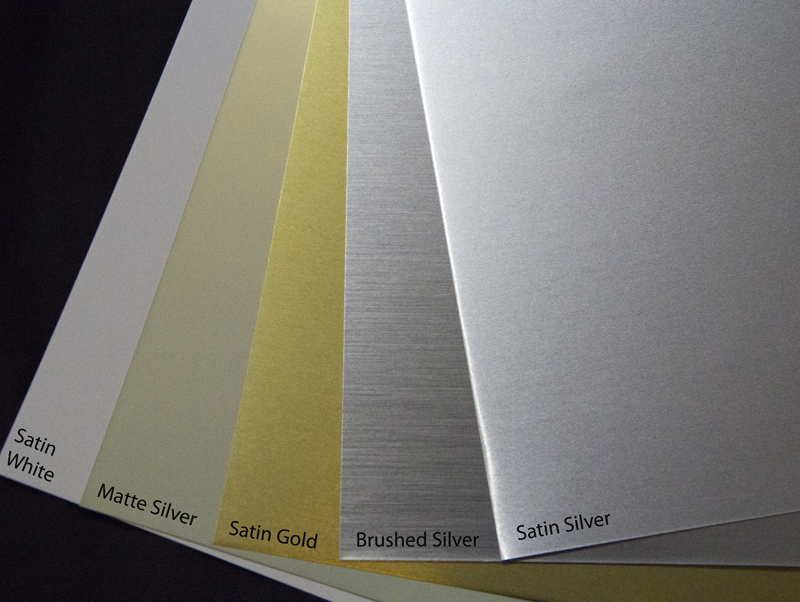 Users must overcoat the metal after printing due to then nature of ink sitting on metal, one can coat with Clearstar Coatings for a matte, semi-gloss, or gloss finish. One can also laminate the fine art metals, which is often more accurate and reliable but expensive for initial setup. Waterproof ink will run because the ink sitting on the inkjet coating, please remember to overcoat or laminate your prints.

• Satin White
Thickness: .012" or .005″
Brightness: 88%
Satin White is aluminium coated with a white layer that allows for a very durable print with a white base. This surface is great for images with high detail and with no need for the light to reflect back through the ink. Satin White gives the look of paper with the durability of aluminium.

• Brushed Silver 
Thickness: .020"
Brushed Silver is less reflective than Satin Silver and has the appearance of a grain like structure – great for artwork with patterns or textures.

• Matte Silver
Thickness: .012" or .005″
Under certain lights, Matte Silver gives a yellowish appearance. The light reflects back through the ink on the matte surface giving a more subdued look. The Matte Silver is great for images that require detail without the appearance of the image lifting off of the metal surface.

• Satin Silver
Thickness: .012" or .005″
Satin Silver can transform artwork or photography, due to the fact that the surface has a true lustre giving it a gloss look. The ink sits on top of the metal, as with all of these metals, but the Satin Silver reflects light back through the ink more so than any of the other metals. The Satin Silver gives an appearance of Ilfochrome because the image appears to be jumping off of the metal surface. There is a very fine grain structure to this metal, which allows for a detailed image.

• Satin Gold
Thickness: .012"
Satin Gold plated aluminium has the appearance of a cross between 24k gold and brass. The underlying colour mutes saturated colour photographs but lends itself very well to black and white. It also works well with desaturated artwork or photography. There is a very fine grain structure to this metal, which allows for a detailed image.