The Libro Japanese Silk is 
the mid-range version of the Libro Collection, these books are offered in Iris book cloth with eighteen different colors to choose from.  It comes with three choices of screwpost and spine options.
Exposed Post
Exposed post option (see below), which is regarded as the modern look. The screw posts are exposed on the exterior of the book, creating a nice finish inside the book.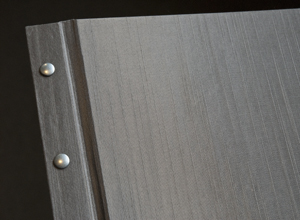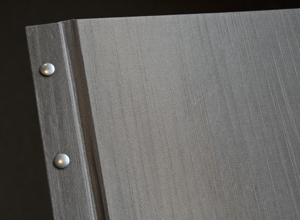 Hidden posts (see below), which creates a nice finish on the exterior of the book, with the screw posts being hidden. The screw posts are exposed on the inside of the book.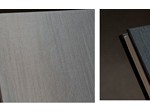 Spine Option
The final option is an accessory to the hidden post covers. It is a decorative spine that hides the pages on the spine of the Libro 

(see below).
All

Japanese Silk 

Libro's come with aluminum finished screw post. An upgrade to black, bronze, or gold is available by purchasing the chosen color separately.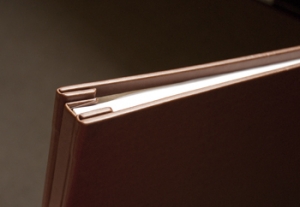 Sizes offered
A4—landscape orientation (exposed post only)
8.5"x11"—portrait orientation (exposed post only)
11″x14″—landscape & portrait orientation
11"x17"—landscape orientation
13"x19"—landscape & portrait orientation
12″x12″ (exposed post only)
Custom sizes are available to please inquire!
Current Colors- We can always work with a custom book cloth!

Paper
Each Libro includes 25 sheets of either Bergger, Canon, Canson Infinity, Epson, Hahnemühle, Inkpress, Innova, or Museo Fine Art inkjet paper, packaged within the Libro's.
Letter size (8½"x11") & A4 are limited to Innova Smooth Cotton Duo.
All paper is scored and drilled to work in our post-bound cover system, so all you have to do is unscrew the album, create your layout with our Photoshop™ or InDesign™ templates, print, and reassemble.
We also offer just the covers of the Libro's.  You can get all the same sizes listed above, but without paper. Please remember each Libro order is custom-made once we receive the order. Please visit our homepage for an estimated timeline for our production schedule.
Other Customization Options:
We also have the options of customizing the Libro Covers to make them unique to your vision.  You can choose from either cloth or leatherette for the covers making the colors match the work you are presenting in the portfolio or the feeling you want people to have when they view your book.
We also have the option of stamping the covers with your logo, name or title. 
Not all Libro Japanese Silk book cloths accept foil stamping very well. If not, we recommend blind stamping(debossing) the cover.
 We can stamp using our lead type library with the limited amount of fonts or we can have a magnesium die specially made with your logo or design.  Either of these options creates a much more custom professional looking Libro Portfolio.