Booksmart Studio's Book Publishing Services
Booksmart Studio is a smaller digital printmaking studio


You will speak directly to the printmaker who is working with your artwork throughout the entire process.
All of our digital specialists and printmakers are practicing artists, many who understand the anxiety in turning over your passion and work to another person for completion. We know what it means to be an artist and how inspirational your artwork is to you as an artist. Being able to work with an artisan that fully respects your vision and produces a final piece of work that captures your idea or concept is unique. The entire process of creating digital prints is a collaboration between the artist and the printmaker. The work of the printmaker ensures that the artist's vision is fully expressed in the final prints. That is why we invite our clients to participate in every step of the process.
We are proud that prints made at Booksmart Studio have been exhibited in galleries and museums all over the world. We are just as excited as you are when your work is completed and ready for display. Nothing means more to us than the review and sale of your work.
What makes Booksmart Studio different?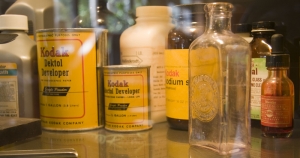 Booksmart Studio is different for many reasons. One of the most important reasons is our passion.  Eric Kunsman, founder of Booksmart Studio, holds multiple degrees in photography, and a Masters of Science in Electronic Publishing from the Rochester Institute of Technology in Rochester NY. Eric also holds a Masters of Fine Arts in Book Arts and Printmaking from the University of the Arts in Philadelphia, PA. His first hand artistic experience and devotion is displayed in the quality of the work Booksmart Studio produces.
Our passion isn't limited to our founder, as all of our digital specialists and printmakers are practicing artists as well. Many also hold Fine Art degrees. This distinction allows us to understand first hand the anxiety of turning over your work and passion to another person for completion. Being practicing artists allows us to collaborate with you on a personal and understanding level, as you travel throughout the bookmaking or fine art printing process. We are also proud that prints made at Booksmart Studio have been exhibited in galleries and museums all over the world.
Our creative resources do not end there, our crew is small but talented. Those that work in sales, custom profiling and technical support also have a vast knowledge of photography, digital printing, bookmaking and a number of different mediums.
Booksmart Studio also works in partnership with Tom Pinzon, owner of New Ridge Bindery. Tom specializes in print finishing and book restoration services offering many years of bookbinding experience and knowledge. Booksmart Studio and New Ridge Bindery are both located in the Anderson Arts Building that is a community of artists and artisans, which is located in the Neighborhood of the Arts of Rochester, New York. If you are in the area we invite you to visit the studio, but please first schedule an appointment. There are many advantages to stopping in to see first hand the papers we offer, bookbinding materials, and printers used to produce your book and talk to those that will be collaborating with you on your book project.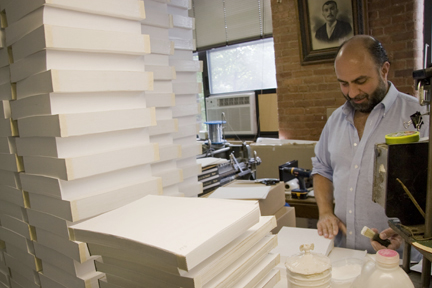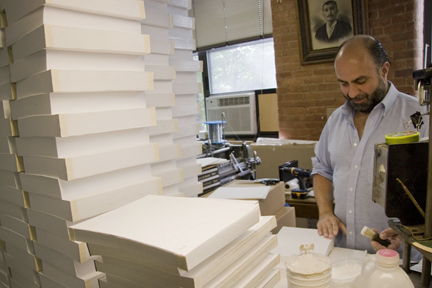 Booksmart Studio offers two methods for clients to get us their digital files.
First Method
Use the button below to download  your images directly to our FTP
Click on the add button and find your image or page layout file on the computer.
Once the file is uploaded please either email printing@booksmartstudio.com or click on your image in the FTP site and choose Share. The Share option will allow you to send a notification via email that your image has been placed on our server. This share option should also be emailed to printing@booksmartstudio.com.
When sending an InDesign document you MUST package all fonts, images, & page layouts in a single folder. The quickest & most efficient method for doing this is by using the package option. For more help with packaging your files please visit the Tutorials section of our website, under Book Publishing, Packaging Your Files.
So how do we know what pages to include in a book?

Are you struggling to figure out where your copyright information should be placed in your book? If you answered yes, then this guide is for you. We will provide you with advice for including pages in your book and their traditional placement within a book at the time of printing your book.
Booksmart Studio has created a starter guide that will help you to determine where critical pages of your book should be placed within your covers. These guidelines follow the Chicago style guide for books and their pages, which serves as a guide for publishers and book artists.
We ship our books using Fed Ex exclusively due to the convenience and great service they offer. We can also ship using UPS with prior arrangement, but do NOT offer USPS shipping.
Fed Ex allows us to track packages shipped all over the world, rarely lose packages, and offer more flexible delivery options. Fed Ex Ground, Express Saver(3 day), Second Day, or any of the three Overnight Options are available.
Booksmart Studio ships our books Internationally on a regular basis utilizing Fed Ex. All shipping charges are responsibility of the artists creating the books. The artists or recipient is also responsible for all duty and customs charges.