Thou Art… Will Give… Exhibition of photographs by Eric Kunsman
August 5th-September 25th, 2011
Opening Reception: August 5th, 2011 6-9 PM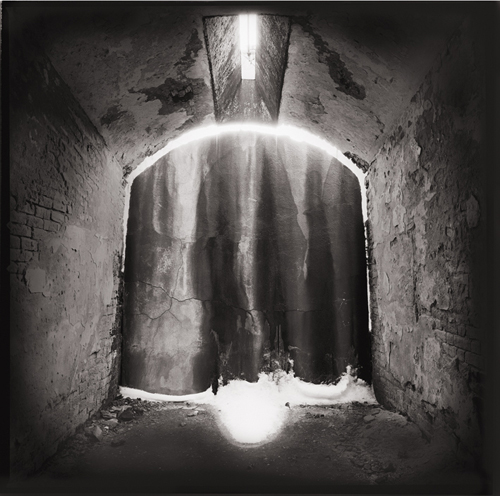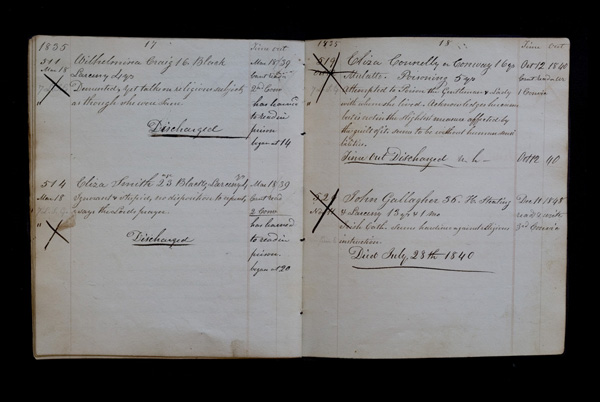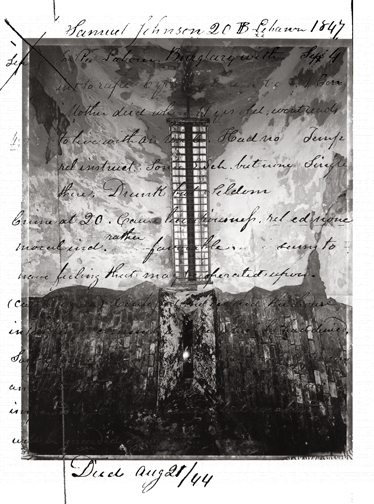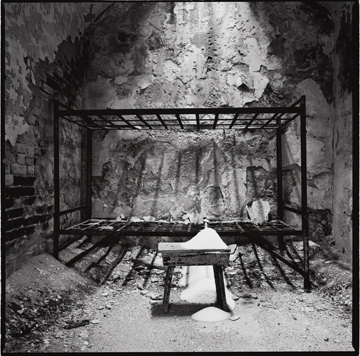 Eight years ago, shortly after moving back to the Philadelphia area, I brought a group of my photography students from Mercer County Community College to the Eastern State Penitentiary on a field trip. It was a great photographic site. The reports I had heard about the architecture of the facility were definitely true, and the light and feeling of abandonment really gave off a sense that the Penitentiary might still be inhabited by ghosts or spirits. But there are a lot of abandoned spaces like that, so my first trip to the site would probably have been my last if I didn't return there on a completely different class trip a few weeks later – this time, as a student.
On that trip, one of my University of Arts professors, Heidi Kyle, introduced us to Eastern State's Archives. Almost as soon as we entered the archives area, I noticed a book titled 'Eastern State Penitentiary Logbook A.' I opened it idly…and then spent the entire visit pouring over its pages.
The Warden's entries brought the Penitentiary to life for me. Through his words, the space now felt inhabited and connected to deep emotions – infused with new meaning. Though his writing is detached, the warden clearly got to know the prisoners far more personally than you would expect. The logs include details about prisoners' families, whether they could read or write, whether they felt guilty about their crimes, whether they were penitent. While my photographs from the earlier visit captured a lot of the physical presence and feeling of the Penitentiary, it was the writings that started to, literally, flesh out the functional and human effects of this altruistic, but ultimately disastrous, Quaker experiment with reforming criminals. On that day, the genesis for this show clicked.
I started returning to the Penitentiary. During each trip it was at least a half hour before I could start photographing. I found myself instantly reflecting on some of the Warden's words, wandering through the space, and rediscovering things through his eyes and his reflections.
In Thou Art…, Will Give…, I hope to offer some of the atmosphere experienced by prisoners when the Penitentiary was active. This exhibition attempts to capture some of story, the energy, and the sorrows of this remarkable space. Actual photographs of entries from the Warden's 1800s logbooks have been blended with my photographs of the Penitentiary, to give a historical sense of both the prisoners and their treatment at the Penitentiary. Photographs with text overlaid are offered to allow the viewer just a hint about the presence of individual prisoners. I am hoping that through these images and text, visitors can share some of the sense of loneliness, hopelessness, and desperate search for redemption that drove so many of those spirits still trapped within the walls of Eastern State.
I continue to visit Eastern State, because this project feels somehow incomplete. The Penitentiary is a massive space, and it hints that it has many more stories that need to be told. So, guided by the Warden – a man or men who died many years ago – I'll keep trying to capture those stories still trapped in the crumbling walls of Eastern State Penitentiary.
— Eric T. Kunsman, July/2011